On January 1st, 2001 we woke up in a tent on the edge of the Sahara Desert in Morocco.
As you might imagine, this is part of a much longer story.
We brought this bottle of wine back with us. Â The other night here in Portland in 2018, I opened it at last.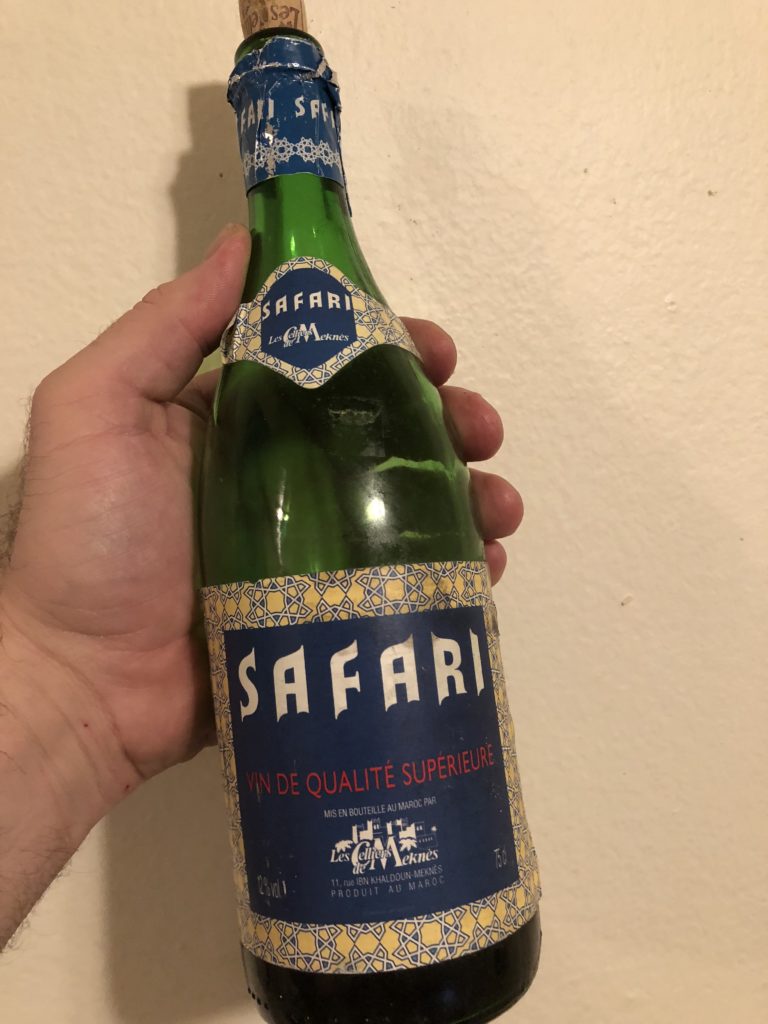 One doesn't think of Morocco, or anywhere in the Muslim world as a place to go for fermented beverages. Â However, they love their tourist trade and we found people to generally be warm and welcoming. Â We also found there was some surprisingly decent local beer available, and we also found some wine.
So, what's it like?  Well, I doubt Les Celliers de Meknés expected anyone to hold on to this bottle this long.  Somehow it didn't go bad after all that rough travel and less-than-perfect handling.  It's got a soft mouth-feel.  I'd say it's a bit fruity with a touch of spice at the end.
But, that's not really what's important is it? Â Opening this bottle releases memories of adventures past and long lost friends. Â A Moroccan we met on our travels emailed us to express sympathy and friendship for America in the wake of the 9/11 attacks, for instance.
We smuggled Meighan into the festival in the trunk of our car. Â I learned to haggle, well enough that the locals told me I bargained like a Berber. Â We explored an ancient city made of mud and straw. Â A family adopted us for two days. Â We travelled with a couple of American guys whose name we forget, but at the time, we called them "Ren and Stimpy" behind their backs. Â Waiting for the Lord of the Flies moment at the poorly-organized festival. Â Pounding drums in a tent with the rambunctious African musicians. Â Having them asked for the drum back when they realized I have no rhythm.
Good times, good times…