So, what were you doing this weekend?
We took a day to explore the 10th annual North Willamette Vintners Wine Trail.  The concept?  You plunk down some Action Jacksons ahead of time and more Willy Valley wineries than you can possibly visit open their doors with wine, snax and grown-up day camp activities!
In fact, in tradition of Day Camps everywhere, you even got a nifty button for each venue visited, as you can see by this image from someone suffering from advanced liver cirrhosis:

Our day started here, with Laurine Apolloni.  She schooled us on the history of the vessels used for storing and transporting wine, including some shocking statistics on just how much wine a Roman soldier was expected to consume per day while brushing his teeth and/or giving Latin lessons.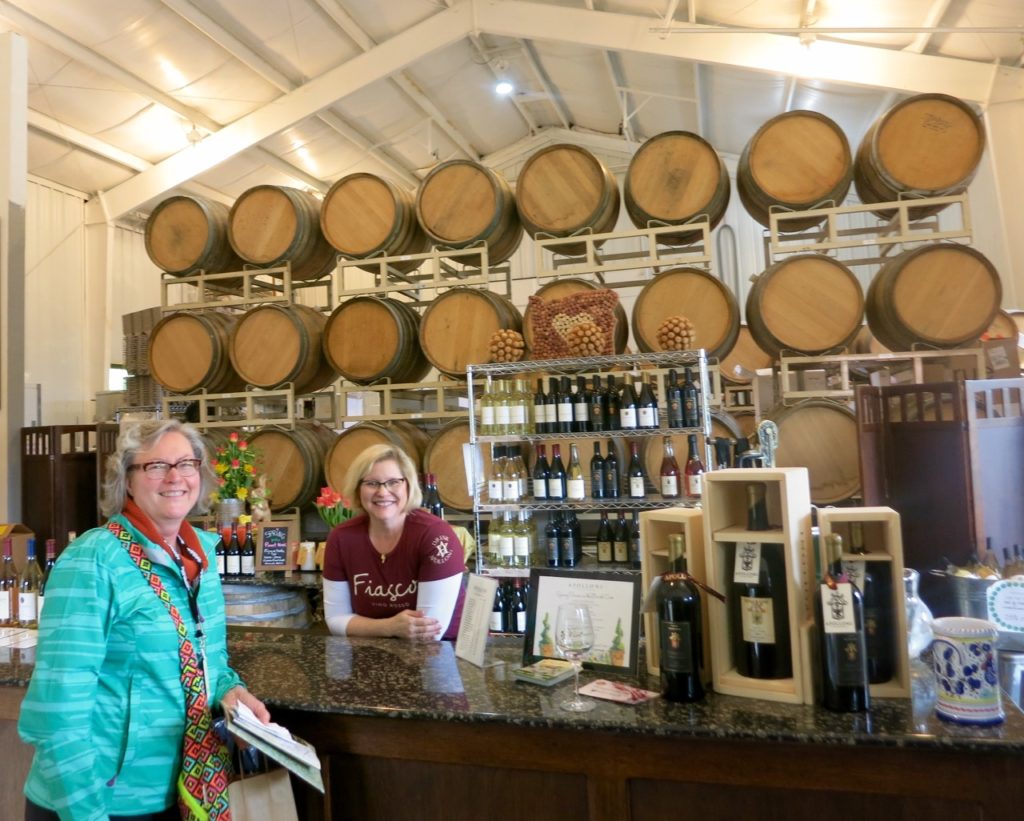 A beautiful location they have.  Here's a rather terrible photo of their barrel cave.
Laurine gave us a tip: if you announce to a Washington County winery that you've visiting from out of the area, and they've got some on hand, the Washington County Visitors Association has a pretty hep goodie bag for you.
We were enjoying a generous dose of Pacific Northwest liquid sunshine, and thus weren't able to provide a decent photo of their picnic tables and views of the vineyard and hills.  A fine place for a picnic on a dryer day.  Also we found their tasting room comfortable and welcoming. I could hang out there for a couple hours.
Savory popcorn anyone?
The day camp activity here was combining air plants with a wine cork to create a fun refrigerator magnet. Staff was quite friendly, but they put the Wine Trail people in a lonely back room. Hey guys, perhaps add some pleasant music and/or better lighting to warm the place up? We're not fans of complaining, but the magnets had fallen off our air plant corks before the day's travel was done so maybe details should be thought through more thoroughly for future events.
Lovely view they have there from the top of the hill.
Here's David (I didn't ask if he was any relation to the hill, har har) sharing knowledge of the grape vine clones they grow and use at David Hills. They generously provided samples of wine from their three major Pinot clones so we could taste the flavors of what each individual grape contributes to the blend they eventually bottle. Hep!

Today's winner for best Willamette Valley winery tasting room environment goes to  Árdíri.  Why?  Well, start out by seeing their fat old vines out front: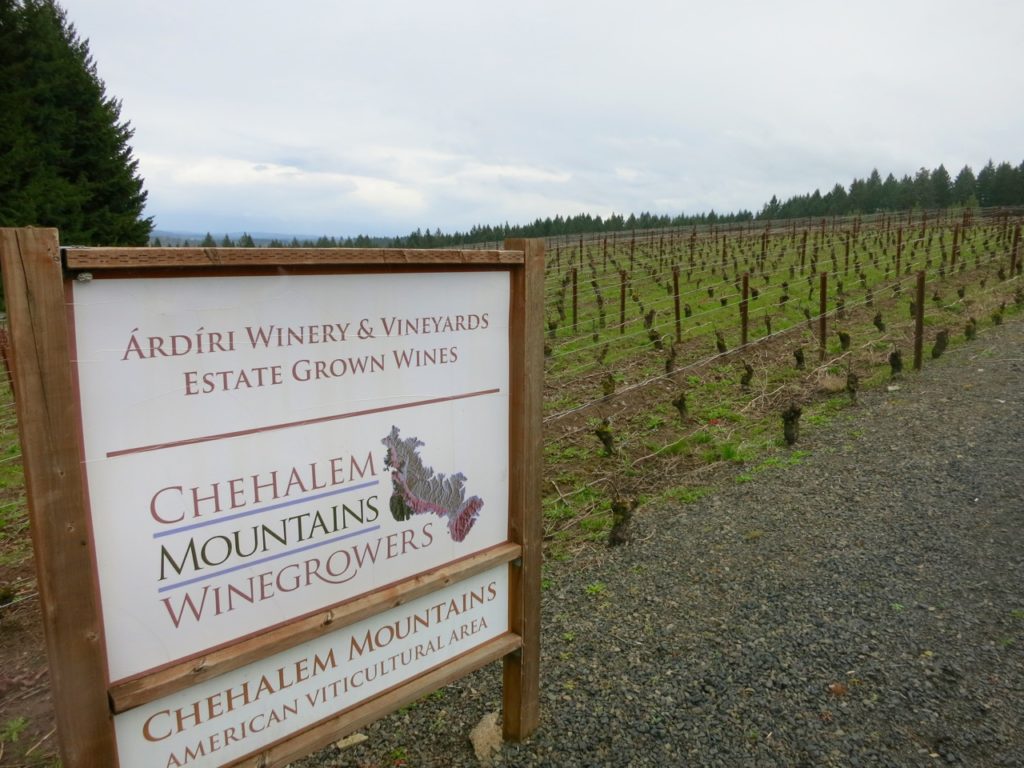 Then you cross the patio and find the fire tables…
Suddenly there's chocolate…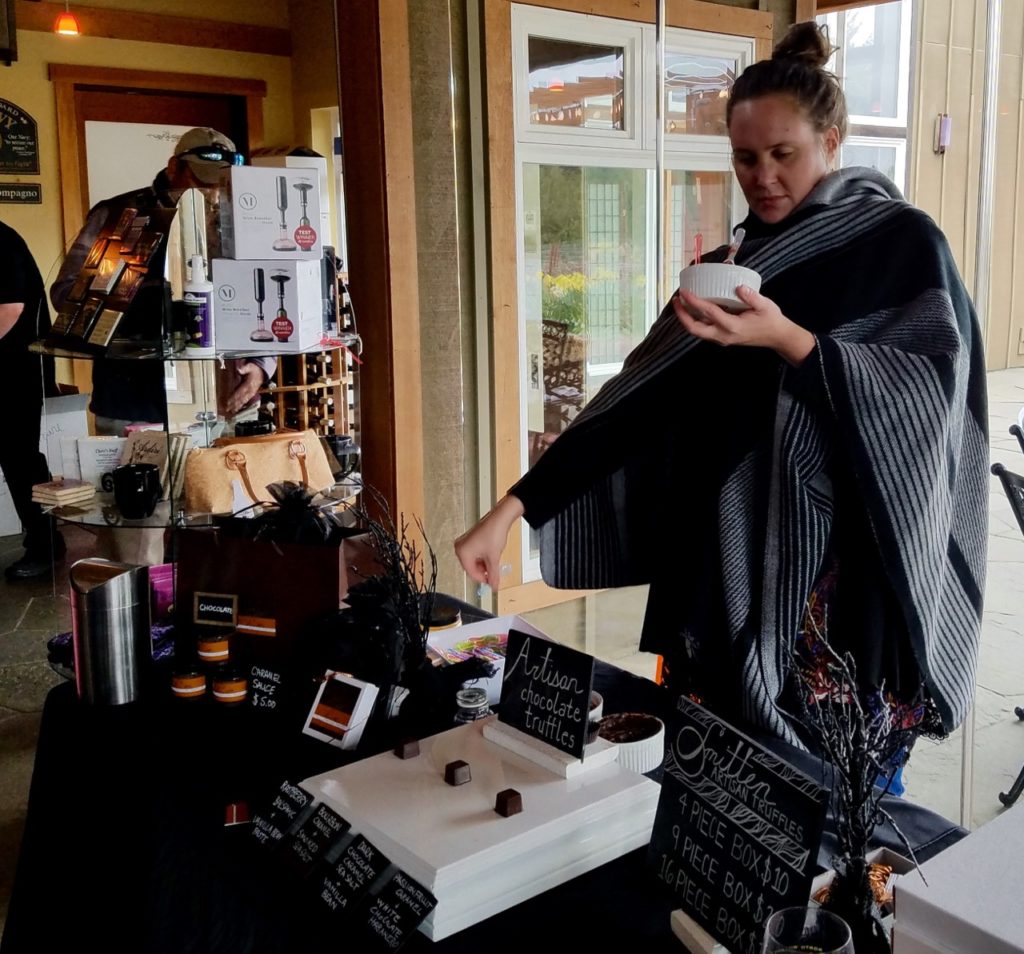 Hey, those glass walls?  In good weather they retract and it's all patio.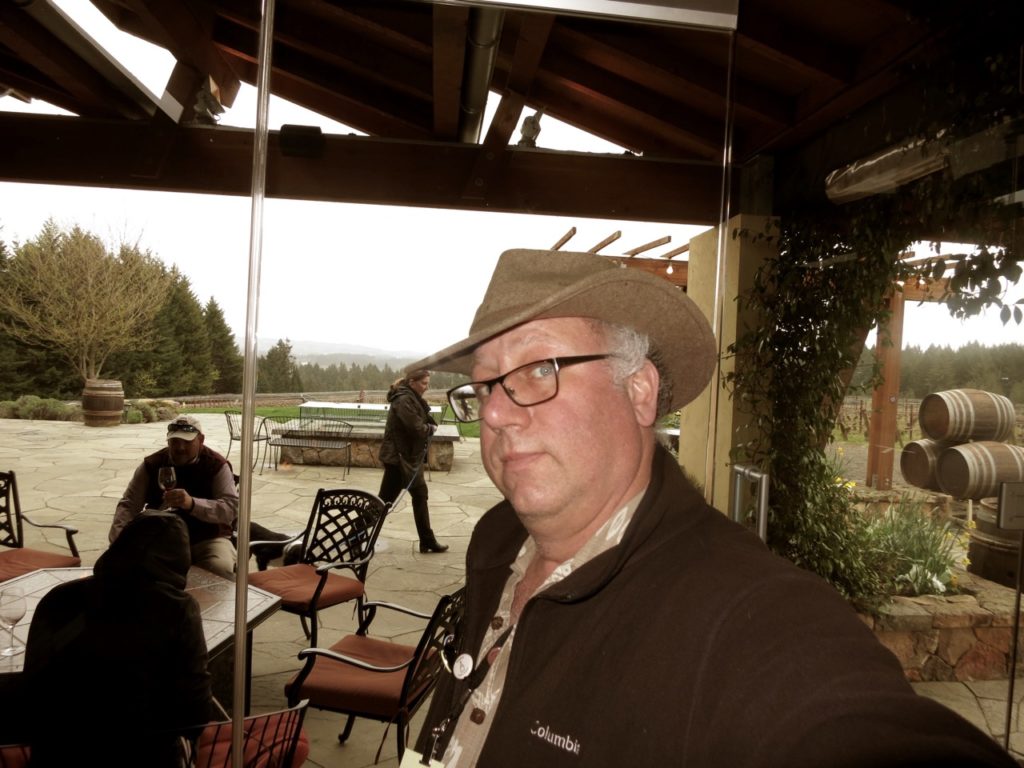 Mmmm lovely view. I'm pretty sure they had some wine here too.
Let's say you want to combine a lovely house on the top of a hill with a place for retired horses, a bunch of dogs and a place to craft some beverages.
Here's our friendly winemaker showing us how he blends their three whites into their signature bottling, Mingle.
Yes, it really is their living room. Here's a bunch of happy, lazy dogs.
Since we're so close to Portland here there has to be too many fun things to do at once without hurting yourself. In this case, A Blooming Hill Winery is also part of the Quilt Barn Trail of Washington County.  We were pleased to stumble across many of these fun pieces of art on barns across the valley today.
Here's a wee bit of naughty art for you, on a towel in the bathroom.
Our vote for funnest Day Camp activity goes to Oak Knoll Winery for their blind tasting challenge.  What's the deal Ally McBeal?  Simple.  See if you can match the five samples they pour with wines on the sample sheet.  Can you tell a Cabernet from a Tempranillo?  Let's find out:
Well, here's our tasting sheets – keep in mind that we do not pretend to be experts in how wine should taste.  We focus on the physical and emotional experience that forms your perception of what comes out of the bottle and goes in your gullet.
Hey, we got one out of five correct.  Joyce and I both identified the Pinot Noir correctly!  Yay for us!  😀
I thought these old silos were worth a photo:
Our other favorite Day Camp activity was presented here at Plum Hill.
They not only showed us how grave vine grafting works, they gave us two vines to take home and plant!  Stellar!
And they have white port!
Yes, you are going to like it and want to take some home.
a  look down the corridor towards the main tasting room:
See this winery dog?  Turns out his name is "GHOST".
The composition of the previous two photos made me think of these images.  I'm sure the dog's name is just dang coincidence.
Our final stop for the day schooled us on the olfactory nature of these beverages we've been consuming.
Here's Joyce working on identifying the four scents found in their wines. Guess those and you got something nice that I forget what it is because I couldn't place a single one.
For practice they had this very clever "smelling station" with the scents in the jar and the answers under the lid. I didn't guess even a single of of these correctly either. Oh well.
They have a very comfy barrel room here. Check it out: